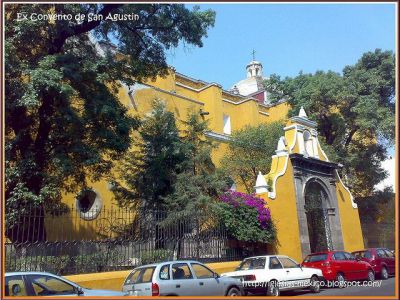 Convento de San Agustín (San Agustín Convent), Puebla
The first convent built for the Augustinian order in Puebla was commissioned in 1546. The construction of the second one, the one we see today, was finished in 1629. In terms of size, the Convento de San Agustín, which together with its temple covers two city blocks, is second only to the Puebla Cathedral.

Throughout its history, the convent was used for different purposes, including as a fortress, considering its elevated, strategic location, guarding the city's south and west entrances. As such, this is one of the most besieged structures in all the armed conflicts that Puebla has ever endured.

Rather sober-looking on the outside, the convent has two gates. The main one, dating from the 17th century, is made up of two entries and a finial, adorned with Doric-style pilasters and niches with sculptures. In the upper part there is a central relief made of marble, called "The vision of Saint Augustine", depicting the saint prostrate on his knees and assisted by a pair of angels.

The side gate, of Herrerian style, is even more sober-looking than the main one. On the pediment, which is broken, you can see the Augustinian coat of arms, a heart pierced by two arrows, which symbolizes the divine love that burned in Saint Augustine.

The cross-plan building is topped with a dome reminiscent of Byzantine-style domes.
Inside, the majestic temple is richly adorned with sculptures of Santa Monica and other saints of the order, placed in the niches. Particularly notable among them is the sculpture of San Nicolás Tolentino, located in one of the side chapels.
Convento de San Agustín (San Agustín Convent) on Map
Walking Tours in Puebla, Mexico