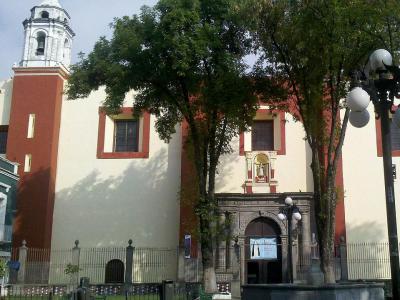 Convento de Santa Inés (Santa Inés Convent), Puebla
The Temple of Santa Inés (Saint Agnes), also known as the Temple of the Xanenetla Barrio (for its location in one of the oldest neighborhoods of Puebla), is part of the Convent of Dominican Sisters dedicated to Saint Inés de Montepulciano, founded in 1622. The name of the neighborhood alludes to the abundance of xalnenetl, a gravel from the banks of the Almoloya River, which, back in the day, was widely used by the locals as construction material.

The convent was initially built as a home for nuns of the second order of Santo Domingo, and is a beautiful construction designed in a predominant Colonial style; its architecture dates back to 1663.

Although small, the temple has an atrium and a bell tower. Its façade is decorated with polychrome mortar. The door is arched with a niche framed by two estípite columns (pilasters typical of the Churrigueresque Baroque style of Spain and Spanish America in the 18th century) featuring medallions of Saint Catherine of Siena and Saint Dominic de Guzmán, as well as the Franciscan saints Clare and Francis of Assisi. Saint Paul and Saint Peter can be seen on the sides of the door, while at the top, crowning the façade, is the image of Saint Agnes.

The interior is neoclassical in style, with altars of simple decoration, dedicated to Saint Joseph, Jesus of Nazareth, the Virgin of Sorrows, and the Immaculate Conception, among others.

On the main altar you can see the sculpture of Santa Inés de Montepulciano. In the nave there are two canvases: one on the epistle (right-hand) side, depicting the profession of the nuns who founded the convent; and the other, on the gospel (left) side, featuring a scene with Pope Benedict XIV with a document, alluding to the creation of the convent.
Sight description based on Wikipedia.
Convento de Santa Inés (Santa Inés Convent) on Map
Walking Tours in Puebla, Mexico