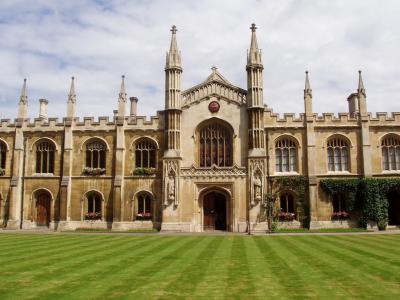 Corpus Christi College, Cambridge
One of the oldest institutions within Cambridge University, Corpus Christi College is located in the heart of the academic district on Trumpington Street, opposite St. Catharine's College. It was founded in 1532 and, as its name suggests, has been one of Cambridge's most religiously active colleges throughout history. For many years, all graduates from this small, wealthy college became members of the clergy. Often at the centre of religious argument and debate in the city, the college was known as St. Bene't's for several years following the Reformation, when Catholicism was outlawed. This relates to nearby St. Bene't's Church, Cambridge's oldest building, which was once used as the college chapel.

The main Corpus Christi campus is divided into three courts. Old Court is the original college building dating back from its creation, and one of the city's oldest academic buildings. New Court, completed in 1827, was designed by William Wilkins. The architect considered the courtyard his finest work and is buried within the college chapel, which was built at the same time. The third courtyard is Library Court, a brand new area housing student amenities, which opened in 2008. Together, the three courtyards span the college's 650-year history.

Why You Should Visit:
The college contains lodges that are the oldest in either Cambridge or Oxford; the lawns are manicured, the buildings are austere and ooze character.
The Parker Library, which has some really spectacular manuscripts, is open to the public, just once a week, and should be visited by everyone, if possible.
The chapel is small, certainly not the size of Kings College, but is unusually bright and lovely for a Cambridge chapel.
As one of the colleges you can enter, this should definitely be on your list.
Corpus Christi College on Map
Walking Tours in Cambridge, England