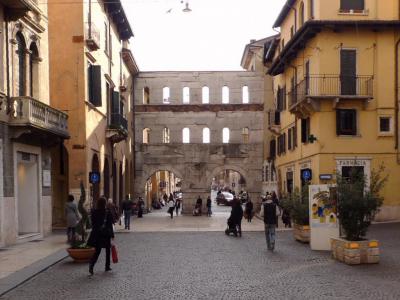 Corso e Porta Borsari (Borsari Gate and Street), Verona
Verona is one of the best-preserved cities in Europe. At every corner, one can enjoy its art, history, and culture without entering an exhibition hall. One of the most stunning elements of the metropolis are its many gates that the Romans built and used to protect its citizens.

The Borsari Gate is an ancient Roman gate that was built in the first century AD. It was previously called the Lovia Gate and then the San Zeno Gate before receiving its current name. The original structure was brick and contained an inner court. It was rebuilt in 265 and given a limestone facade. The upper part of the gate features 12 arched windows.

The Borsari Gate Street, a street of Roman origin, leads from the gate. The street is one of the businest and most characteristic of Verona, as well as being one of the most exclusive for shopping for the many fashion shops found along the street.
Corso e Porta Borsari (Borsari Gate and Street) on Map
Walking Tours in Verona, Italy