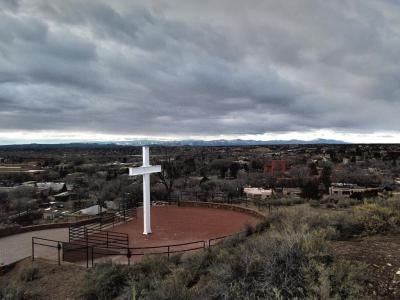 Cross of the Martyrs, Santa Fe
You'll find the Cross of the Martyrs a short hike away on a hilltop near the Santa Fe Plaza. Dedicated to the Franciscan friars killed during the 1680 Pueblo Revolt, this site offers great views of the city from above. The hike isn't strenuous, but there are ten sets of stairs along the way. But there are plenty of spots to rest, numerous plaques along the route which provide a history lesson, and lots of fresh air.

Starting in 1540, the Pueblo Native Americans that lived in the Southwest were subject to a steady wave of Spanish soldiers, missionaries, and colonists. Encounters were often violent, and many Pueblo people were enslaved. The delicate balance of power lasted for more than 100 years, but in 1670 a severe drought and raids by the Apache brought extreme hardships to the region. With unrest growing, Governor Juan Francisco Treviño had 47 Pueblo medicine men arrested for practicing "sorcery." With many of his soldiers away tending to the Apache situation, when Pueblo leaders moved with force to rescue their medicine men, Treviño had little choice to give up the prisoners.

One of the prisoners was known as Popé, and he fled to Taos Pueblo, where he began seeding support for a revolt. He spent five years getting support from more than 46 Pueblo towns. The surviving Spanish fled Santa Fe, only to return 12 years later.
Cross of the Martyrs on Map
Walking Tours in Santa Fe, New Mexico