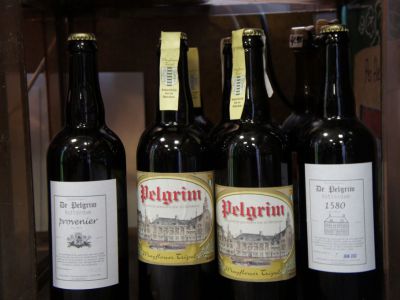 De Pelgrim Brewery, Rotterdam
In a beer-loving country like The Netherlands it's no wonder to find a plethora of regional and even seasonal brews. Quite naturally, the city of Rotterdam is no exception in this respect and has its own landmark brewery, called De Pelgrim ("The Pilgrim"), where award-wining beers are brewed using local water and the best-sourced ingredients including aromatic hops and pure yeast.

The brewery is sitting next to the Pilgrim Fathers' Church, hence the name, and as such is a distinctive local attraction. Operational since May 9, 1996, this is the first ever brewery in Rotterdam – a city where, prior to that, no other beer-making facility had been present.

De Pelgrim's building, dating from 1580, was initially designed to accommodate the Town Hall of Delfshaven (then a separate municipality from Rotterdam). Centuries later, Harry van de Wiel, a beer lover and entrepreneur, saw it as a perfect location for his long-coveted brewing business.

The result has been a beautiful, traditional brewing installation whose signature robust, artisanal beers now can be enjoyed, both draught and bottled (0.75L and 3L units), in De Pelgrim's own Tasting Room as well as other establishments throughout the city.

Two varieties are brewed here permanently: Pelgrim 1580 and Mayflower Tripel, where the former is a fresh bitter based on the Altbier from Düsseldorf, Germany; and the latter has a full spicy flavor thanks to the special hops added. It is also possible to request your own brew, subject to available options. Just make sure to get your precious purchase properly packaged afterwards for a long trip back home.

Opening Hours:
Wednesday-Saturday: 12 pm-12 am; Sunday: 12 pm-10 pm; Monday and Tuesday: closed.
Image Courtesy of Alicia Rojas De Croes.
De Pelgrim Brewery on Map
Walking Tours in Rotterdam, Netherlands
Useful Travel Guides for Planning Your Trip
--- Souvenirs Shopping: 16 Genuine Dutch Things to Buy in Rotterdam
Just as any other major Dutch destination, Rotterdam is associated with sea, excellent cheeses, marvelous beer, good food and, generally speaking, good taste. A set of gifts from Rotterdam will duly reflect any, if not all, of these qualities. Listed here are some of the items that might prove well...