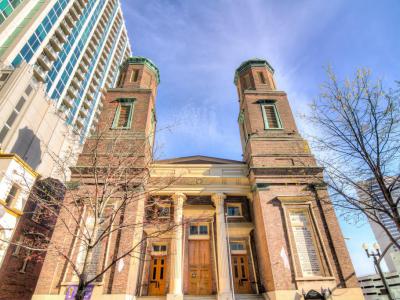 Downtown Presbyterian Church, Nashville
The Downtown Presbyterian Church, formerly known as First Presbyterian Church, is a unique architectural gem with a storied history. The first structure burned down in 1832, and a second sanctuary was constructed the same year. The third and present sanctuary was constructed in 1848. The church was designated a National Historic Landmark in 1993.

What sets this church apart is its striking Egyptian Revival architecture, which was designed by William Strickland. Strickland, who also designed the Tennessee State Capitol. The church's exterior showcases Egyptian style lotus columns and a winged sun disk, while the interior features stained glass windows, woodwork, and murals of Egyptian scenes. The church's twin towers mirror the design of St. Stephen's Church in Philadelphia, a city Strickland resided in before moving to Nashville.

This church is one of the rare examples of Egyptian Revival architecture in the United States and possibly the best preserved ecclesiastical example. Other surviving churches in the U.S. with Egyptian architectural themes include the First Baptist Church of Essex, Connecticut, and the First Presbyterian Church in Sag Harbor, New York.

The Downtown Presbyterian Church has also been the site of several historic events and persons. President Andrew Jackson was a member of the church when it was still known as First Presbyterian Church. He was presented with a ceremonial sword on the steps of the original church following the Battle of New Orleans. Additionally, Tennessee Governor James K. Polk was inaugurated in the church's second sanctuary. During the Civil War, the church was seized by Federal forces and used as a military hospital, temporarily becoming Nashville's Union Hospital No. 8.

Over the years, the church has served as a sanctuary for Nashville's citizens, sheltering them from floods in the 1920s and providing refuge to soldiers during the Second World War. The church continues to engage in active social ministry, offering support to the less fortunate.
Downtown Presbyterian Church on Map
Walking Tours in Nashville, Tennessee