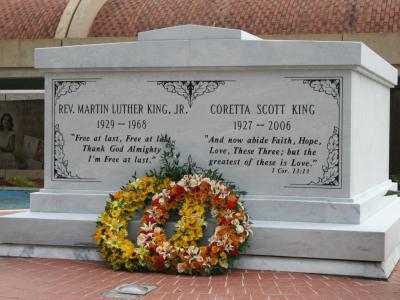 Dr. King's Tomb, Atlanta
Serving as both a museum and a hub of social-justice activity, the King Center is also Martin Luther King, Jr.'s final resting place, attracting tens of thousands of visitors annually as a living memorial to the inspiring leader. Dr. King's white-marble crypt lies outside in the Freedom Plaza, surrounded by a magnificent five-tiered Reflecting Pool that symbolizes the life-giving power of water. The tomb bears an inscription of his famous words: "Free at Last. Free at Last. Thank God Almighty I'm Free at Last."

A small circular pavilion in front of the crypt houses an eternal flame that burns continuously. The Chapel of All Faiths, located at the end of Freedom Walkway, represents the ecumenical nature of Dr. King's work and the universal principles of the world's major religions.

A store on the premises sells King memorabilia and an extensive collection of books. Ranger talks, focusing on the community and civil rights movement, occur regularly on Freedom Plaza.
Walking Tours in Atlanta, Georgia