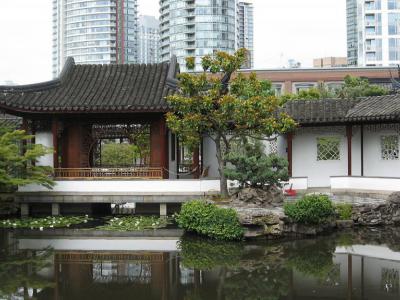 Dr. Sun Yat-Sen Garden, Vancouver
The Dr. Sun Yat-Sen Garden situated in Vancouver stands as the inaugural Chinese or "scholars" garden constructed beyond China's borders. Its inception took place from 1985 to 1986, timed to coincide with Expo 86. Funding for the project materialized through a collaboration between the Chinese and Canadian governments, along with contributions from Vancouver's Chinese community, as well as various public and private benefactors.

The garden receives its name as a tribute to Dr. Sun Yat-Sen, acclaimed as the pioneering president of the Republic of China and revered as the "father" of the contemporary Chinese nation. In his pursuit of advancing the Chinese nationalist movement during the early 20th century, Sun Yat-Sen found himself in Vancouver on three separate occasions for extended stays.

This venue seamlessly incorporates a public park and a traditional Chinese garden, distinct yet interconnected by way of an artificial pond. The exterior park design was masterminded by local architects, while the inner garden's conception was guided by experts hailing from Suzhou, China.

The classical garden embodies Taoist and Feng Shui ideals for balance through opposites. The public park combines Western and Chinese styles, using local North American materials. Park entry is free, while the garden charges for admission, providing guided tours for an enriched visit.

Due to the similar winter climates of Vancouver and Suzhou, many plants in the garden look much like those in Suzhou. Carefully chosen to highlight seasonal changes, especially the spring rejuvenation, these plants are deliberately arranged with restraint. Unlike exuberant Western gardens, this design adds color to the landscape throughout the year.

Tip:
If you're unsure about the fee, you can always try the free public park first, as it also has a little pond, bridges, and beautiful views.
Dr. Sun Yat-Sen Garden on Map
Walking Tours in Vancouver, Canada
Useful Travel Guides for Planning Your Trip
--- 16 Distinctively Canadian Things to Buy in Vancouver
British Columbia, in general, and Vancouver, in particular, are among the top Canadian destinations worth being explored. The amalgam of aboriginal and western cultures, Vancouver is a treasure trove of distinctively Canadian delights that are not found anywhere else. Most of these items make for an...