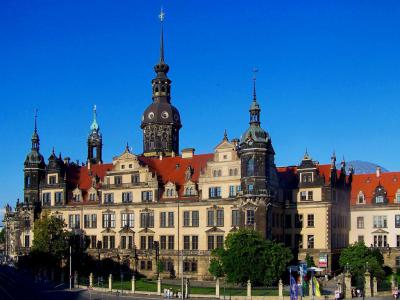 Dresden Castle, Dresden
(must see)
Dresden Castle is one of Dresden's oldest buildings. It served as a royal residence for almost 400 years and housed Saxony electors and Saxony and Polish kings. The castle features different architectural styles, such as Baroque and Neo-renaissance.

The castle was originally built in the 13th century as a Romanesque keep. The keep was extended in the 15th century and again in the 16th century. A fire damaged the castle in 1701, and Augustus the Strong rebuilt the castle and added the western wing collection rooms. The castle was rebuilt in the ornate Baroque style.

The House of Wettin celebrated its 800th anniversary with further renovations and additions between 1889 and 1901. The Stall Courtyard was painted with the famous "Procession of Princes ." In 1914, additional renovations modernized the castle with heating and electric lights.

World War II bombs heavily damaged Dresden Castle. Restoration work started in the 1960s and continues today.

The castle is now home to a collection of museums that are housed in Augustus the Strong's collection rooms. The museums include the Historic Green Vault, the New Green Vault, the Numismatic Cabinet, the Collection of Prints, Drawings, and Photographs, and the Dresden Armory. Guests can also visit an art library with 260,000 titles related to art history.

The Hausmann Tower offers a beautiful view of Dresden's Old Town. In addition, the English Stairway was reconstructed using the original Baroque design.
Walking Tours in Dresden, Germany