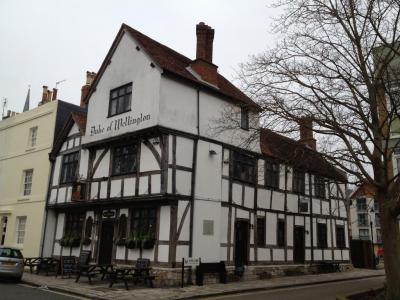 Duke of Wellington Pub, Southampton
The Duke of Wellington is a classic British pub. It serves real English ales in a historic building that seeps ambiance and authenticity.

The building is located on Bugle Street, one of the oldest and most historically relevant parts of town. The building was built in 1220 on top of Normal cellars and vaults. The first resident was Benedict Ace, one of the town's first mayors.

It wasn't until 1494 that the building became a public house. It was bought by Holland-born brewer Rowland Johnson, who called it Brew House. Then, of course, he started brewing his own ales and thusly began the city's first brewery.

In the 1600s, the pilgrims would have passed this pub on their way to board the Mayflower.

The pub has changed names several times over the years. It was first the Brew House, and then it became the Shipwrights Arms in honor of the many shipbuilders who patronized it. Finally, in 1815 it was named for the Duke of Wellington in honor of his victory in the Battle of Waterloo.

The Duke of Wellington is still a pub today. They have function rooms for rent and serve locally-made ales. It's an excellent place for some pub-grub, too. The burgers are well-regarded.
Duke of Wellington Pub on Map
Walking Tours in Southampton, England