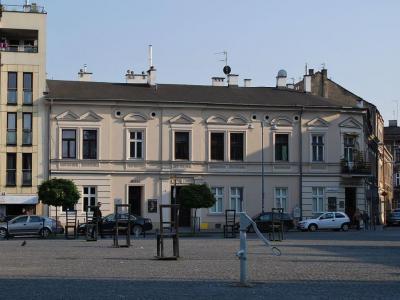 Eagle Pharmacy, Krakow
Before World War II, Eagle Pharmacy was one of the four pharmacies in Podgórze district. Its clients were both Polish and Jewish residents of the district.

On March 1941, the Germans established a ghetto in Podgórze for Kraków's Jews, Eagle Pharmacy was the only one within its borders and its owner (Jozef Pankiewicz) was the only Pole with rights to stay in it.

The Jews that lived in the ghetto chose the pharmacy as the place for conspiratorial meetings. Among them were: writer Mordechai Gebirtig, painter Abraham Neumann, Dr Julian Aleksandrowicz, neurologist Dr Bernhard Bornstein, Dr Leon Steinberg and pharmacists: Emanuel Herman, Roman Imerglück. Soon it also became a source of various medical supplies, which helped in avoiding deportation: hair dyes used for rejuvenating the appearance, luminal (fenobarbital) used to calm children while hidden, so they can be smuggled in luggage out of the ghetto.

During the bloody displacement at the Plac Zgody in 1942, Pharmacy personnel issued free medicines and dressings while its recess areas were used as shelters for saving Jews from deportation to extermination camps.

Pankiewicz and his assistants Irena Drozdzikowska, Aurelia Danek and Helena Krywaniuk were liaisons between Jews in the ghetto and the outside world, passing information and smuggling food. They also were depositaries of valuables entrusted to them by deported Jews before leaving the ghetto.

Today the former Eagle Pharmacy is a public museum.
Sight description based on Wikipedia.
Walking Tours in Krakow, Poland