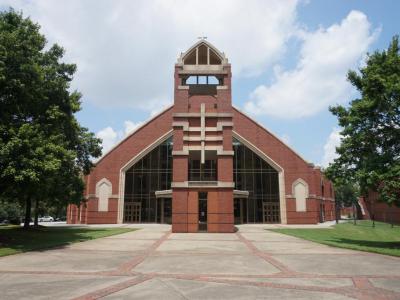 Ebenezer Baptist Church: New Horizon Sanctuary, Atlanta
The New Horizon Sanctuary, located across the street from the historic Ebenezer Baptist Church/Sanctuary, was built in 1999 and seats 1,600 people. Choosing to maintain its commitment of service to the urban community in a time when many churches were moving to the suburbs, it now forms part of the MLK National Historical Park, and was designed by architectural firm Stanley, Love-Stanley, P.C. along with the associated educational building, Peace Plaza, bell tower and prayer garden.

As the "historic" sanctuary is now used for special occasions only, regular services (Sunday Worship: 9am/11am; Wednesdays: 7-8 pm) are held here, with a special annual commemorative service featuring tributes to the life and achievement of Dr. King from national and international leaders. The building itself, modeled after an African tribal meeting hut, has a roof ribbing that is strongly reminiscent of African thatch, while the bell tower is a weave-and-glyph-patterned obelisk.
Ebenezer Baptist Church: New Horizon Sanctuary on Map
Walking Tours in Atlanta, Georgia