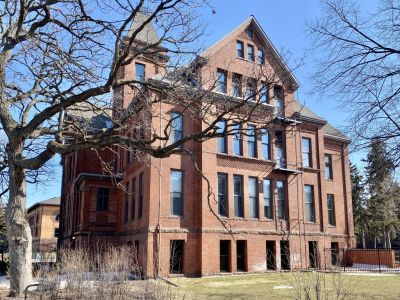 Eddy Hall, Minneapolis
The oldest building within the district, as well as the oldest extant building on the Minneapolis campus. Originally built as the Mechanic Arts building, it was designed by Minneapolis architect LeRoy S. Buffington. Executed in the Queen Anne mode, the building is three stories in height on a high basement; a square tower at the northwest corner dominates the entry. The building is constructed of red brick with red sandstone trim. It is essentially rectangular in plan. Dominant features include the multi-gabled roof, high double-hung windows, panels of patterned brick, and iron cresting with weather vane on the tower.

Erected at a cost of $30,000 in 1886, the building received a $10,000 addition in 1903. The building originally housed the Mathematics, Drawing, Civil-Municipal-Structural Engineering departments, as well as testing laboratories. The Mechanic Arts building was eventually renamed Eddy Hall in honor of Henry Turner Eddy, former professor of Engineering and Mathematics and later Dean of the Graduate School.
Sight description based on Wikipedia.
Walking Tours in Minneapolis, Minnesota