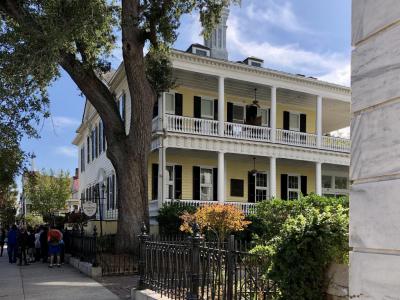 Edward Rutledge House (Governor's House Inn), Charleston
Constructed in 1760 by John Laurens, this is Charleston's oldest house currently functioning as a bed-and-breakfast. It once served as the residence of Edward Rutledge, the younger brother of John Rutledge and the youngest signer of the Declaration of Independence, who also was governor of South Carolina from 1798 to 1800. Trained in law in England, he established his law practice in Charleston before becoming involved in the First and Second Continental Congresses. During the American Revolutionary War, he was taken as a prisoner of war after being captured during the 1780 Siege of Charleston.

Today, this property is a National Historic Landmark, and it features 11 beautifully appointed guest rooms. The Laurens room offers picturesque views of the historic architecture in the area, while the Jefferson Suite features a separate living room, private porch, wet bar, and an original 1760 fireplace. Guests can enjoy a Southern gourmet breakfast as well as afternoon tea and evening sherry. The location is ideal, situated on the periphery of the original Grand Modell city and the prestigious Below Broad residential area. Additionally, it's within convenient walking distance of King Street's shopping and antiques district.
Edward Rutledge House (Governor's House Inn) on Map
Walking Tours in Charleston, South Carolina