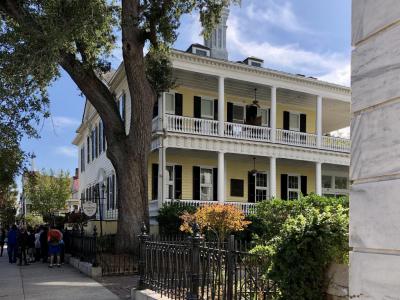 Edward Rutledge House (Governor's Inn), Charleston
On the south side of Broad Street is the Edward Rutledge House, now known as the Governor's House Inn; a National Historic Landmark that is oriented as many Charleston houses are, with a two-story porch facing to the right side. The facade facing Broad Street has a gable at the center of the roof, which is fully pedimented and has modillions lining its outline. An entrance is located in the center of the main five bays, topped by a transom window and gabled pediment, and flanked by sidelight windows. The interior, which has undergone much alteration due to varied uses, still retains some of its original features; the 11 guest rooms all come in classic style with high ceilings, four-poster beds, and period furnishings.

The house is most notable as the home of Edward Rutledge (the younger brother of John Rutledge), a signer of the United States Declaration of Independence. Rutledge, a South Carolina native, was trained in England in the law, and had by the time of the American Revolution established a law practice in Charleston. He served in the First and Second Continental Congresses, and spent time during the American Revolutionary War as a prisoner of war, having been captured in the 1780 Siege of Charleston. He served as Governor of South Carolina from 1798 to his death in 1800.
Edward Rutledge House (Governor's Inn) on Map
Walking Tours in Charleston, South Carolina