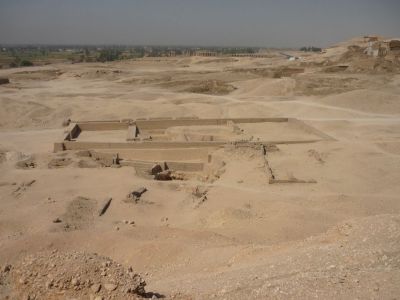 El-Assasif Necropolis, Luxor
The El-Assasif Necropolis contains tombs and burials from the 18th, 25th and 26th dynasties of ancient Egypt. One of the biggest tombs in the cemetery is that of Mentuemhat who was an official and fourth prophet of Amun in Thebes during the 25th dynasty. There are many statues of Mentuemhat in museums around the world as well as others still extant in his tomb. Pediamenopet, chief librarian and archivist to several pharaohs during the 25th and 26th dynasties also has his tomb at El-Assasif. He was obviously deemed to be very important as his tomb is very large – containing 22 rooms that are connected by long corridors and shafts. There are three levels to the tomb and it extends down 20 meters under the earth.

Another interesting tomb to visit, while investigating El-Assasif Necropolis, is that of Harwa, who was a noble, holding the illustrious position of Great Steward of the Divine Votaress during the 7th Century B.C. This important role meant that he had control of the affairs and finances of the great Temple of Karnak, dedicated to Amun. Information gleaned from the tomb indicates that Harwa may also have ruled southern Egypt on behalf of 25th dynasty pharaohs.
El-Assasif Necropolis on Map
Walking Tours in Luxor, Egypt