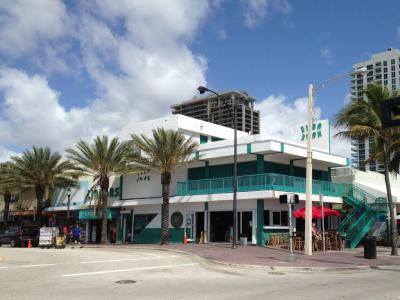 Elbo Room, Fort Lauderdale
Sitting on the corner of Las Olas Boulevard and Fort Lauderdale strip since 1938, the Elbo Room is a legendary dive and live music bar, much loved by students as a Spring Break destination. The place also gained popularity around the country for numerous movie appearances, including the award-winning 1960 film "Where The Boys Are", starring Connie Frances and George Hamilton, which made it a true landmark.

College students from all over the U.S. came flocking to Ft. Lauderdale and this place in particular during Spring Break to bask in the sun and meet the partner of their dreams. This phenomenon continued through the 1980s, when a change in local laws made the it somewhat less Spring Break friendly. The living memory of this iconic spot is now represented by displays of customer photos from the past years.

As a mainstay in Ft. Lauderdale for more than half a century, the Elbo Room is as much historical as it is old. Naturally for a beach bar, it has personality which changes with the eclectic clientele and the bands playing. The latter are mostly really good, and are richly complemented by the great ocean view, cold beer and strong cocktails.

There is always something for everyone, and if you like loud music, legendary bars and history, you will love the Elbo Room, no doubt. It's just the matter of catching it at the right time. No trip to Ft. Lauderdale Beach is complete without a visit to Elbo Room!
Walking Tours in Fort Lauderdale, Florida