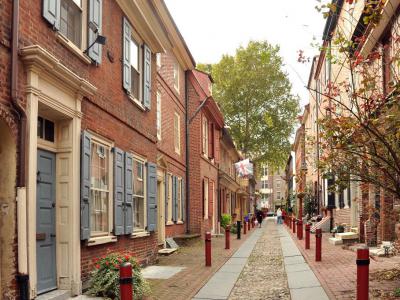 Elfreth's Alley, Philadelphia
(must see)
In the 18th century, Philadelphia became a bustling city, overcrowded with artisans, tradesmen, shipwrights, metalsmiths, glassblowers, and furniture makers. As a result, the landowners Arthur Wells and John Gilbert started a cart path from Front Street to Second Street in 1703. The path became Elfreth's Alley, named after Jeremiah Elfreth, an 18th-century blacksmith and a man of property in young Philadelphia.

By the 1770s Georgian and Federal-style houses lined the cobblestone Alley. Many of the structures were uniquely Philadelphian Trinity houses. These were three-story houses, exceptionally narrow, with one room on each floor. The floors were referred to as "Father, Son, and Holy Ghost." And that is how Trinity houses got their name.

In the 19th and 20th centuries, the industry started to close in on the Alley. A stove factory took its place in a row of residential houses. Immigrants, hoping for jobs, came in waves. In 1934 the Elfreth's Alley Association (EAA) was founded by Alley resident Dolly Ottey. Ottey fought to combat the deterioration of the Alley by encroaching industry in the early 20th century.

Elfreth's Alley Museum is located in houses 124 and 126. The museum preserves the home of 18th-century dressmakers. Tour guides discuss other homes and inhabitants of the Alley. On "Fete Day" in early June, which celebrates Alley's diverse ethnic heritage, the residents open their homes. There are historical reenactments with drum and fife bands. The Alley also host events for the 4th of July, Oktoberfestivities, and Halloween.
Walking Tours in Philadelphia, Pennsylvania
Useful Travel Guides for Planning Your Trip
---