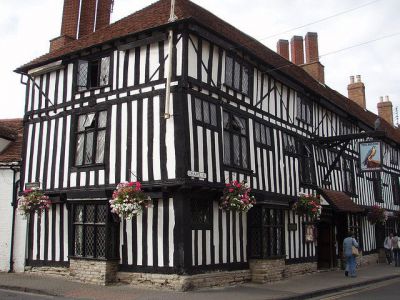 Falcon Hotel, Stratford-upon-Avon
After a year-long extensive and quite impressive restoration, the former Falcon Hotel once again opened its doors to the public in 2019, re-branded as the Hotel Indigo.

This quintessentially Tudor, half-timbered property was built around 1500. Originally it had been a two-story town house (the third floor was added circa 1645) and had taken on many forms, including several as private dwellings, for another 150 years before it was turned into a hostelry. The first record of an inn on this location dates back to 1655.

The Royal Shakespeare Club is known to have held their annual dinners at The Falcon since 1824.

The multi-million pound project saw the stunning Warwickshire hotel meticulously restored with an utmost care being paid to the historic elements, such as the traditional black-and-white, close studded timber-frame and plaster façade. Because it's a listed building, like had to be replaced with like, and everything that could be kept has been, including many of the original oak beams from 1622.

The hotel's 93 guest rooms are designed on three themes: the Georgian, the Tudor, and the contemporary. In keeping with the theme, the Tudor rooms feature the authentic architectural quirks of the original 16th-century property and offer views over the site of Shakespeare's New Place.
Walking Tours in Stratford-upon-Avon, England