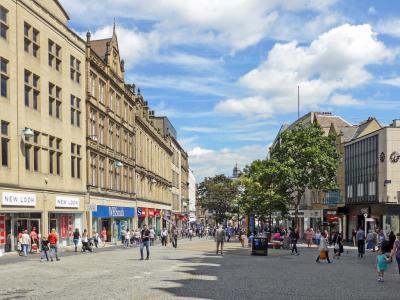 Fargate, Sheffield
Fargate is a pedestrianized area between Barkers Pool, with its 90-foot tall war memorial, and the busy High Street. Pedestrianized in 1973, it holds Continental Markets four times a year. The Markets feature cheeses, confections, clothes, plants and flowers, handcrafts, and jewelry. There's a lot to experience at Fargate.

The Wheel of Sheffield is a Ferris wheel, 197 feet high. It is moveable. It not only moves around and around, but it also moves around the country. It began in 2009 as a feature of Fargate. In November 2010, it was transported to other locations. Now it is a seasonal attraction at Fargate in Sheffield.

One revolution takes 13-14 minutes. It has 42 cars with a capacity of eight people per car. The ride is accompanied by a commentary on local attractions. The Peace Gardens nearby is home to the rebuilt Goodwin Fountain, dedicated to industrialist and philanthropist Stuart Goodwin.

Carmel House, an imposing Victorian stone building, Georgian brick terraces, and homes can still be found in Fargate. In 2005, archeologists from the University of Sheffield discovered a medieval sandstone well in the bedrock under Carmel House. Pottery found by the well was dated 1300 AD.

The University of Sheffield Futurcade exhibition provides an augmented reality experience "teleporting" around the virtual city model to explore the plans for the immediate future of Fargate and High Street.
Walking Tours in Sheffield, England