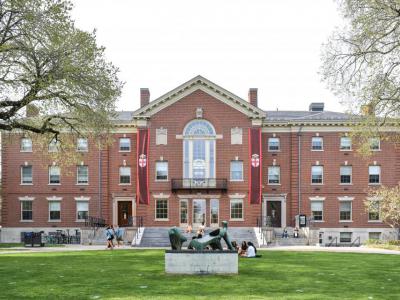 Faunce House, Providence
Those looking for Faunce House on the Brown University campus might find themselves lost. The historic building, which was originally called Rockefeller Hall, was renamed to the Stephen Robert '62 Campus Center. The redesign has turned the older building into a recreational hub for Brown University students.

The building first opened in 1904 as Rockefeller Hall due to a gift from John D. Rockefeller, Jr. The hall had a reading room, a smoking room, a barber shop and a billiard room. It also had a small cafe, YMCA offices and a trophy room. The building was designed by architectural firm McKim, Mead and White.

It was Rockefeller's request that the building be expanded and renamed after Dr. William Herbert Perry Faunce in 1931. Dr. Faunce was an American clergyman and educator, and was the president of Brown University between 1899 and 1929. The addition provided dining rooms, a large cafeteria, a theatre and a tavern. It also included the Faunce Memorial Room, which was intended to be a meditation space for students.

Visitors to the Stephen Robert '62 Campus Center are welcome in the building from 7 AM to 5 PM Monday through Friday.
Walking Tours in Providence, Rhode Island