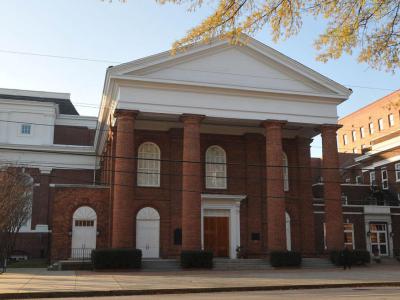 First Baptist Church, Columbia
The First Baptist Church in Columbia is a Greek Revival building built in 1856. A convention met here on December 17, 1860 which voted unanimously for South Carolina to secede from the United States, leading to the American Civil War. It was first organized in 1809, with the building of the first church building, located on Sumter Street, in 1811. The second and current First Baptist Church was built in 1856 by an unknown architect. Its construction was funded by James P. Boyce, a former president of the Southern Baptist Theological Seminary.

The following year, in 1860, the Church was the site of the first state convention to discuss secession following the election of Abraham Lincoln as President of the United States. It was chosen because it was the largest meeting place in Columbia. Under the chairmanship of D. F. Jamison, a unanimous vote of 159-0 in favor of secession on December 17, 1860 led to South Carolina seceding from the United States Six other states would follow South Carolina's lead before the Battle of Fort Sumter; some felt if they did not secede now, they might lose the argument that a state had the right to secede, a right that has never been confirmed or denied by a court of law.
Sight description based on Wikipedia.
First Baptist Church on Map
Walking Tours in Columbia, South Carolina