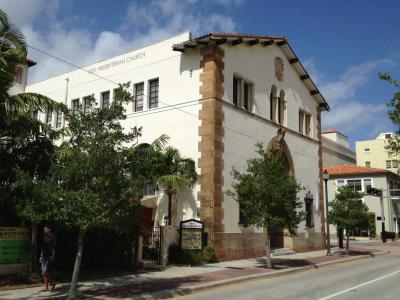 First Presbyterian Church, West Palm Beach
Located on Olive Avenue and Evernia Street, the First Presbyterian Church features a Spanish Colonial design. The building was designed in 1925 by architect Arthur Harmon for the Central Farmer's Trust Company Bank. The building was added to the West Palm Beach Register of Historic Places in 1996.

Harmon is best known for being a partner of the firm Shreve, Lamb and Harmon. He also helped to design the Empire State Building. Other buildings designed by Harmon include 740 Park Avenue, 3 Park Avenue, the Jerusalem International YMCA, and the Ten-Eyck-Troughton Residence.

The bank closed during the depression and was purchased in 1934 by the church. The beautifully designed building features arched entrances and windows, an iron balcony and window grills, and ornamental stone accents. The church has an adjacent building that features a walled courtyard.

Visitors to the church will be greeted by a warm and friendly congregation. The church provides hot meals to the needy on Mondays from 5 pm to 6 pm. Sunday Service is at 10:30 am and a bible study is offered on Thursdays from noon to 1 pm. The church has a multiethnic congregation. An average of 250 to 499 people attends services each week.
First Presbyterian Church on Map
Walking Tours in West Palm Beach, Florida