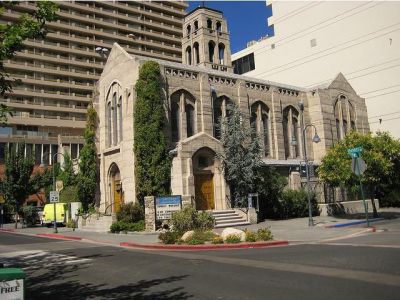 First United Methodist Church, Reno
The First United Methodist Church holds a rich history and is a significant religious institution in the community. Founded in 1868, the church has undergone several transformations and relocations throughout its existence.

The early beginnings of the First United Methodist Church can be traced back to 1868 when initial meetings took place in the local schoolhouse at the corner of what is now First and Sierra Streets. In 1871, the first church building was constructed on Sierra Street, between First and Second Streets, and dedicated for worship.

As the congregation grew, changes were made to accommodate the expanding community. In the early 1900s, the original wood-framed church was moved to the back of the lot, and a new brick building was added to it. However, the desire for a new, grander structure led to the development of plans for a new building in 1925.

Designed by Wythe, Blaken, and Olson of Oakland, the current First United Methodist Church building stands as one of the first poured concrete structures in Reno, showcasing elements of the Gothic Revival architectural style. The cornerstone was laid in 1926, and the building was dedicated in December of the same year, marking the beginning of a new era for the church.

The church's architectural significance is recognized by its inclusion on the National Register of Historic Places since 1983. The listing encompasses two contributing buildings—the main church and a parish house. The parish house, designed by local architect Donald Parsons and constructed in approximately 1840, complements the historical value of the First United Methodist Church.
First United Methodist Church on Map
Walking Tours in Reno, Nevada