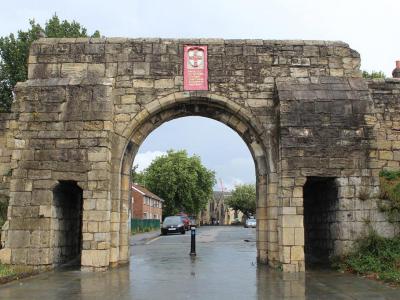 Fishergate Bar, York
The south-facing Fishergate Bar is one of six gateways in the City Walls of York.

The first recorded mention of the Bar dates from 1315, where it is referred to as Barram Fishergate. The latter comes after a large flooded area, known as the King's Fishpond, that used to be located nearby.

The current structure was erected in 1487, by the authority of Mayor of York, Sir William Todd. Attesting to this fact is a central stone surmounting the archway, featuring the York coat of arms and Latin inscription – "A.doi m.cccc.lxxx.vii Sr Willm Tod knight mayre this wal was mayd in his days lx yadys" – translating as "Sixty yards of the wall, including the bar, was built in 1487 under Sir William Tod, mayor of York".

Two years after the construction, in 1489, the Bar suffered severe damage at the hands of enraged citizens who revolted against heavy taxation imposed by Henry VII, the first Tudor king. The rebels burned the gate following the murder of Henry Percy, 4th Earl of Northumberland.

Today, a commemorative plaque on the Bar recalls that event. Also, you can see some reddened and cracked stones near the base of the gateway – traces of the Yorkshire Revolt. The damage was so bad that, instead of repairing the gateway, it was bricked up and not re-opened until 1834, to provide access to the cattle market.

As a secondary gateway, just like Victoria Bar, the Fishergate consists of a main arch and two smaller pedestrian ones.
Walking Tours in York, England