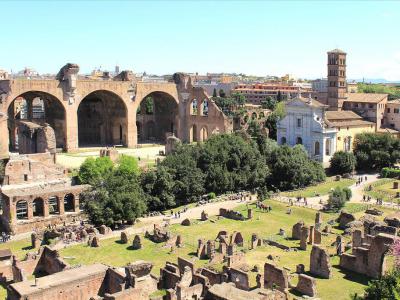 Foro Romano (Roman Forum), Rome
(must see)
One of, if not THE most celebrated meeting spot in the world of all times, the Roman Forum, had been the nerve center of ancient Rome's public life.

It is believed that people first gathered here around 500 BC, initially for day-to-day trading at a marketplace. Over the next few centuries, as more activities started to take place here, such as voting, public speaking, social gatherings, criminal trials, gladiator matches, religious ceremonies, and business deals, this small valley between the Palatine and Capitoline hills gradually turned into a multi-purpose hub filled with buildings, arches, streets, and monuments.

The ancient Romans were incredibly well organized, and the placement of sites within the Forum still makes a lot of sense even today. The best-known sights here include the Senate House, the Temple of Saturn, the Arch of Titus, the Temple of Vesta, the Rostra, the Temple of Castor and Pollus, Via Sacra, and others.

Unlike the Imperial Fora modeled on an ancient Greek town square, the Roman Forum developed gradually and organically. It was reconstructed many times throughout its existence, attesting to which are the traces of the influence of different architectural styles from different periods. Most of the ancient Forum was destroyed in the 5th century AD, around the time when the West Roman Empire fell into decline.

Even though now reduced to crumbling ruins, the Forum still remains a historical relic of incalculable value attracting some 5 million visitors annually.

***Movie "ROMAN HOLIDAY": Joe Encounters Ann***
The Roman Forum would be a convenient place for Princess Ann and Joe Bradley to meet: she, on the escape from the palace; he, from a poker game at Irving Radovich's apartment. As Ann feels the effects of a sleeping pill, she rests on a brick bench near the Temple of Saturn (4th century BC) and the Arch of Septimus Severus (203 AD). That's where Joe finds her, takes pity on her and tries to take her home. Never managing to get her address, he takes her to his place by taxi. The road seen in the film, close to the ancient arch, no longer exists. There used to be a road running along the northwest edge of the Roman Forum, but it has been closed for quite some time, part of it remaining as a cul-de-sac.

Opening Hours:
Daily: 8:30am-4:30pm (Jan 2–Feb 15); 8:30am-5pm (Feb 16–Mar 15); 8:30am-5:30pm (Mar 16–last Sat of March); 8:30am-7:15pm (last Sun of March–Aug 31); 8:30am-7pm (Sep 1–30); 8:30am-6:30pm (Oct 1–last Sat of Oct); 8:30am-4:30pm (last Sun of Oct–Dec 31)
Last admission always one hour before closing time. CLOSED: Dec 25, Jan 1.
Foro Romano (Roman Forum) on Map
Walking Tours in Rome, Italy
Useful Travel Guides for Planning Your Trip
---