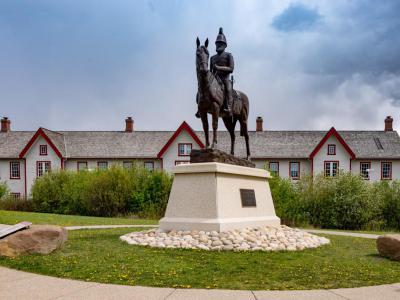 Fort Calgary, Calgary
(must see)
Fort Calgary was constructed in 1875 under federal orders. The fort was established predominantly to extricate whiskey traders settled in that area. This fort is located at the junction of Elbowrivers and Bow in Calgary.

The exact spot to construct the fort on the Bow was identified by the F Troop that traveled upon Ephrem A. Brisebois' command from Fort Macleod. The troop set foot on the Bow using a makeshift tarpaulin and wagon box. The first member who set foot on the Bow is Corporal George Clift King which is why he is referred to as the first citizen of Calgary.

Spruce logs from upstream and pine were materials used to construct the fort. It consists of buildings such as the men's quarters, storage facilities, stables and guard room. Originally, the fort was named "Bow Fort" or "The Elbow".

There was an attempt to name the fort after Captain Brisebois. As he was not very popular, the attempt was unsuccessful and the fort was eventually renamed Fort Calgary in 1876. In 1882, new barracks were constructed by tearing down parts of the old fort. In 1888, due to the destruction of a barrack in 1884, a two story building was constructed with a capacity of housing 100 men.

Fort Calgary is a must-see attraction for anyone who wants to know the history of Calgary. It is frequented by thousands of tourists and locals each year.
Walking Tours in Calgary, Alberta