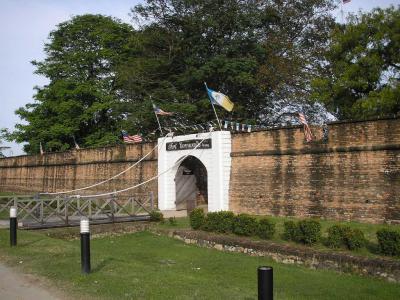 Fort Cornwallis, George Town
Charles Edward Cornwallis V did not end his military career at Yorktown, Virginia in 1781. He went on to happier times. He became Governor-General of India in 1786. In that same year, Captain Francis Light, captured Penang Island from the Sultan of Kedah. Captain Light immediately built Fort Cornwallis, a stockade of palm trunks.

Captain Light died in Penang in 1794. The fort was completed in 1810. It was rebuilt using Indian convict laborers. Brick and stone replaced the palm trunks. A moat, thirty feet wide and seven feet deep surrounded the fort but it was filled in the 1920s. The fort has never seen combat. It served administrative, rather than defensive duties.

A chapel was built at the fort in 1799. John Trimmers married Martina Rozells, Captain Light's widow, in the chapel that same year. An ammunition magazine building survives in the southwest corner of the fort. The fort has a collection of cannons. The largest is called Seri Rambai, cast in 1603 by the Dutch who gave it to the Sultan of Johor in return for trading concessions. The British seized it in a raid in 1871.

A steel skeleton lighthouse, 69 feet high, was built in the fort in 1882. It is the second oldest lighthouse in Malaysia. It is the only lighthouse in Malaysia that serves a navigational function. The fort is bounded by Light Street in the south, the Jalan Barakbah Road in the east and north and by the esplanade's promenade.
Walking Tours in George Town, Malaysia