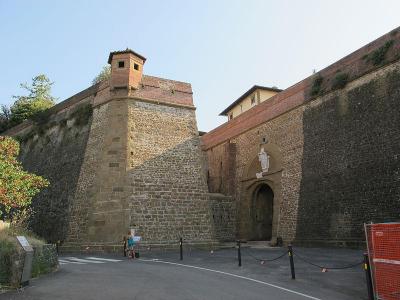 Forte di Belvedere (Fort Belvedere), Florence
A perfect sample of both Italian Renaissance and military architecture, Fort Belvedere was built at the end of the 16th century by Grand Duke Ferdinando I de' Medici. The purpose of this grand fortress was twofold: to safeguard the city of Florence and to showcase the power and prestige of the Medici Family. Additionally, it served as a repository for the Medici's treasury and offered a safe haven for the Grand Duke himself in times of potential attack. To facilitate this, the fort was connected to the Old Palace ("Palazzo Vecchio") via a corridor over the Old Bridge ("Ponte Vecchio"), as well as through other passages linking it to the Pitti Palace and Boboli Gardens.

From a military standpoint, the fortress – largest in Florence – occupies a strategic vantage point over the city and its surroundings. Given the nature of warfare during the Renaissance period, forts played a crucial role in defense strategies, and Belvedere excelled in its role as a citadel and garrison for over a century after its completion. Its walls are intentionally positioned at angles to one another, enabling effective observation and, if necessary, crossfire to defend the neighboring walls. Notably, Galileo Galilei utilized the fort for astronomical observations and, following his life imprisonment sentence in 1633, resided nearby at Villa Arcetri.

After five years of renovation to enhance safety measures, the fort reopened to the public in July 2013, now primarily serving as an exhibition center. The nominal entry fee is well worth it, as visitors can freely explore the site and enjoy breathtaking panoramic views of Florence and the surrounding hills.

***MEDICI LANDMARK***
The opulent villa at the center of the fortress, Palazzina di Belvedere, was designed circa 1570, thus predating the fort itself. As the fort's secondary purpose was to house the Grand Duke in times of unrest or epidemic, it was built as a comfortable, luxurious palace. Not adhering to military purposes, it housed the Medici family's treasures at the bottom of a well that was well-protected by traps. Any intruders attempting to breach the lock would trigger a lethal trap, making survival highly improbable!

Tip:
On the upper floor of the fort, there is a charming cafeteria where you can enjoy a satisfying meal or a refreshing beverage.
Forte di Belvedere (Fort Belvedere) on Map
Walking Tours in Florence, Italy
Useful Travel Guides for Planning Your Trip
---