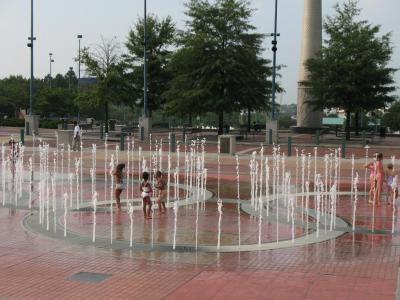 Fountain of Rings, Atlanta
The Fountain of Rings is the primary attraction of Centennial Olympic Park in Atlanta, and is renowned worldwide. Originally designed for the Centennial Summer Olympics in 1996, it comprises computer-controlled lights and jets of water synchronized with music played from speakers in light towers surrounding the fountain. The fountain forms a splash pad for children to play in, as well as for concertgoers and joggers to cool off on hot Atlanta summer days.

The waterplay area comprises 251 jets that shoot water 12 to 35 feet (4 to 10 m) in the air, creating a stunning water sculpture that serves as the front yard of the nearby museum. The fountain area is surrounded by flags of previous host countries of the Summer Olympics, and eight 65-foot-tall light towers reminiscent of classical Greek marker columns. Additionally, there are various sculptures scattered throughout the park, including a statue of Pierre de Coubertin, the father of the modern Olympic movement, and a small amphitheater located at the southern end.

The fountain is an essential formal architectural landmark that is also a fun and playful space. The concept of a computer-controlled fountain has since been replicated in other urban designs such as Dundas Square in Toronto and in commercial uses such as the Bellagio Fountains at the Bellagio Hotel & Casino in Las Vegas, Nevada.

There are fountain shows held at Centennial Olympic Park all 365 days of the year, four times daily, playing at 12:30PM, 3:30PM, 6:30 PM, and 9:30PM.

Why You Should Visit:
Whether you want to take a break from sightseeing or enjoy some family-friendly entertainment, the Fountain of Rings is a must-see attraction in Atlanta.
Walking Tours in Atlanta, Georgia