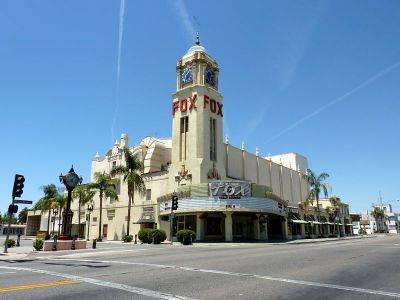 Fox Theater, Bakersfield
(must see)
The Fox Theater is located at 2001 H Street in Downtown Bakersfield, California. The theater, which opened on Christmas Day, 1930 is the performing arts hub, and hosts a variety of performing talent, ranging from ballets to contemporary pop and rock acts.

The Fox Theater in Bakersfield, California opened with the feature film Just Imagine, a sci-fi film set 50 years in the future. The 1930s were a strong period for the Fox Theater. The silver screen featured the latest "talkie" pictures, and the stage was graced by numerous acts including Bakersfield native Metropolitan Opera baritone Lawrence Tibbett (1933); world-renowned soprano Kirsten Flagstad (1939); the Los Angeles Philharmonic Orchestra (1939); and the classic pianist Arthur Rubinstein (1940). Because of the Fox Theater's Type I construction of poured concrete over steel, the theater withstood the 1952 earthquake which shook Bakersfield and leveled many buildings throughout the city.

Today, the Fox Theater is the heart of Downtown Bakersfield's arts and entertainment district. The theater is home to FLICS, Bakersfield's foreign film program which runs fall through spring yearly, showcasing the best foreign film of the past year. The Fox Theater also sees a variety of music stars including Cyndi Lauper, Olivia Newton John, and Switchfoot. The Theater also hosts numerous local dance recitals, as well as performing arts events such as Russian ballet.
Sight description based on wikipedia
Walking Tours in Bakersfield, California