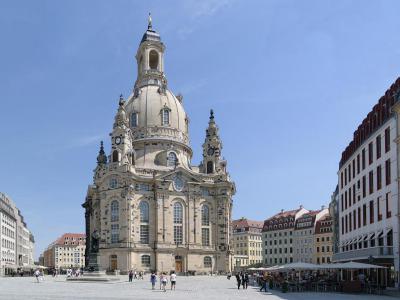 Frauenkirche (Church of Our Lady), Dresden
(must see)
The current Church of Our Lady is a Lutheran church built between 1726 and 1743. It features Baroque architecture and has one of Europe's largest domes.

The first Church of Our Lady was a Catholic church built in the 11th century. It became a Protestant church during the Reformation. The original church was torn down and replaced by the new Luthern church.

In 1736, Gottfried Silbermann built an exceptional 43-stop organ for the church. Johann Sebastian Bach played a recital on the organ on December 1, 1736.

The church's iconic dome is 96 meters (315 feet) tall. The dome is known as Stone Bell ("die Steinerne Glocke" in German). The dome is often compared to Michelangelo's St. Peter's Basilica dome. Stone Bell weighed 12,000 tons and was originally held up by eight supports.

In 1945, Allied forces bombed Dresden. The church survived two days of attacks before collapsing. While most of the church was destroyed, the original altar and chancel were salvaged.

Residents salvaged and numbered stone fragments, hoping to use them in a future reconstruction. In 1994, Gunter Blobel won the Nobel Prize for medicine and donated his prize money to restore the Church of Our Lady. In addition, England's Prince Edward supported the Dresden Trust which contributed funds for the reconstruction project.

Rebuilding the Church of Our Lady cost 180 million Euros. The rebuilding effort began in 1992 and was completed in 2005. The church was rebuilt using the original plans from the 1720s and salvaged materials. About 3,800 original stones were used in the reconstruction. One can see the original stones in the building as they appear darker due to age and fire damage.

Rebuilding the church was a community-wide effort. Builders relied on photographs and memories to reconstruct the details. For example, old wedding albums helped builders reconstruct the church's carved oak doors.

A new orb and cross were forged and placed on top of the dome. The original damaged cross stands inside by the church's altar. The original organ was replaced with a 68-stop organ.

The rebuilt Church of Our Lady is a popular attraction. US President Barack Obama visited the church in 2009.
Frauenkirche (Church of Our Lady) on Map
Walking Tours in Dresden, Germany