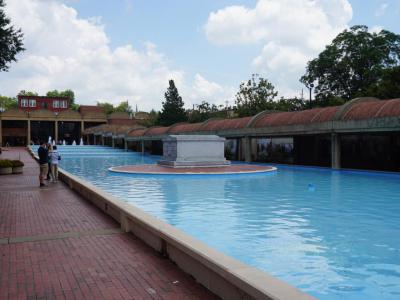 Freedom Hall, Atlanta
Located within the Martin Luther King Jr. National Historical Park in Atlanta, the Freedom Hall served as the original headquarters of the Southern Christian Leadership Conference (SCLC), the organization that Dr. Martin Luther King Jr. co-founded in 1957.

Today, Freedom Hall serves as an exhibition space for visitors to the King Center. The exhibits include photographs, artifacts, and documents related to the Civil Rights Movement and Dr. King's life and legacy. Visitors can view exhibits such as "Courage to Lead," which explores the leadership of Dr. King and other Civil Rights leaders, and "The Montgomery Story," which tells the story of the Montgomery bus boycott.

One of the notable features of Freedom Hall is the mural on the building's exterior, titled "Behold." The mural depicts a group of Civil Rights leaders, including Dr. King, gathered around a table. Visitors can also view the "International Civil Rights Walk of Fame" located outside of Freedom Hall, which honors individuals who have made significant contributions to the Civil Rights Movement.

Overall, Freedom Hall at the King Centre offers visitors a unique and informative look into the history of the Civil Rights Movement and the life and legacy of Dr. Martin Luther King Jr. All of this for no charge, but there are donation boxes to make a contribution.
Walking Tours in Atlanta, Georgia