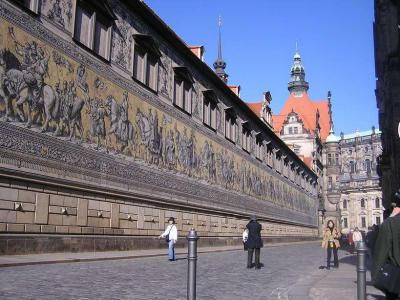 Fürstenzug (Procession of Princes), Dresden
(must see)
The Procession of Princes is an impressive mural that shows Saxony's rulers. The painting was commissioned to celebrate the Wettin Dynasty's 800th anniversary in 1889.

Wilhelm Walther painted the original painting. It took Walther five years to complete the painting, which was finished in 1876. When the artwork began to fade, a preservation plan was implemented. Between 1904 and 1907, the painting was replaced by 23,000 porcelain tiles to make the artwork weatherproof.

The artwork is 102 meters (335 feet) long and is the world's largest porcelain artwork. The mural shows the portraits of the House of Wettin's 35 margraves, electors, dukes, and kings from 1127 to 1904. The rulers are shown on horses with their names written underneath them.

The first ruler in the procession mural is 12th-century ruler Conrad, Margrave of Meissen. The last king of Saxony, Frederick Augustus III, who ruled from 1904 to 1918, is not shown.

The mural also shows 59 farmers, craftsmen, scientists, artists, and children. A girl in the children's group is the only female shown in the procession. The last person shown in the procession is the mural's original creator, Wilhelm Walther.

The Procession of Princes was designed to look like a giant tapestry. The top edge features depictions of 38 individual hanging knobs to make the mural look like a tapestry hung on a wall. The mural also features ornamental frames with plants, butterflies, and birds.
Fürstenzug (Procession of Princes) on Map
Walking Tours in Dresden, Germany