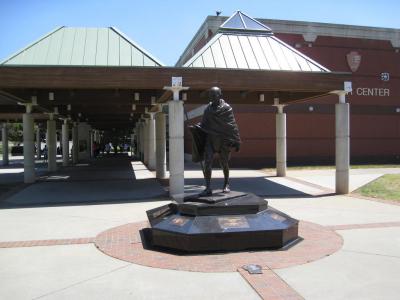 Gandhi Promenade, Atlanta
The Gandhi Promenade is a peaceful and serene pathway located within the Martin Luther King Jr. National Historical Park in Atlanta. This walkway is named in honor of Mahatma Gandhi, a leader in India's struggle for independence and a source of inspiration for Dr. Martin Luther King Jr. The promenade features a series of large, granite columns inscribed with Gandhi's teachings and quotes, along with stunning artwork and lush greenery.

Visitors to the Gandhi Promenade can take a reflective stroll through the pathway while learning about Gandhi's philosophy of nonviolent resistance and how it influenced the Civil Rights Movement in America. The promenade offers a quiet escape from the hustle and bustle of the city, allowing visitors to connect with nature and find a sense of peace and inspiration.

One of the highlights here is the statue of Gandhi that sits at the center of the pathway, surrounded by benches for contemplation. The statue was created by Indian sculptor Gautam Pal and was unveiled in 1998 by Nelson Mandela during his visit to Atlanta.

The Gandhi Promenade is a beautiful tribute to the life and teachings of Mahatma Gandhi and a reminder of the importance of nonviolent activism in the pursuit of justice and equality. A must-visit destination for anyone interested in history, social justice, and peaceful activism.
Walking Tours in Atlanta, Georgia