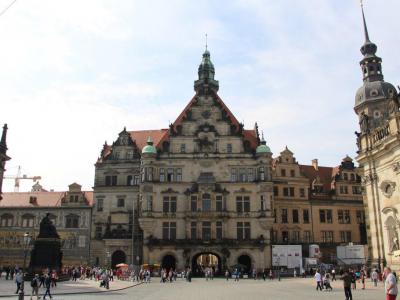 Georgentor (George Gate), Dresden
The George Gate is Dresden's first Renaissance building. George the Bearded commissioned the gate which was built between 1530 and 1535. The George Gate replaced a city gate that provided the original exit from Dresden to the Elbe bridge.

The building's facade features decorate figures with a religious theme. In addition, George the Bearded's motto is inscribed on the facade--"through envy of the devil came death into the world" (in Germany ""Per Invidiam Diaboli Mors Intravit In Orbem").

In 1701, a fire destroyed Dresden castle, and George Gate was renovated to house royal apartments. In 1833, an additional level was added, and in 1868 a ballroom was added.

The facade was redesigned to reflect the Neo-Renaissance style in 1901. Sculptor Christian Behren created an imposing equestrian statue of George the Bearded in George Gate's gable.

Saxony's last king, Friedrich August III, lived in George Gate until 1918. George Gate was destroyed by World War II bombs in 1945 and reconstructed during the 1960s.

George Gate houses several exhibitions. Visitors can see the Coin Cabinet with a collection of ancient medals and coins. In addition, George Gate houses an artwork exhibition.
Georgentor (George Gate) on Map
Walking Tours in Dresden, Germany