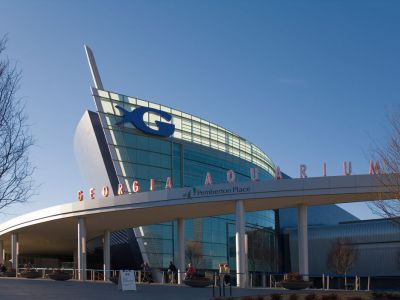 Georgia Aquarium, Atlanta
(must see)
Since it bills itself as the largest in the world, the Georgia Aquarium should definitely be on most visitors' lists of things to do while in Atlanta. It's a well designed aquarium with exhibits broken down by habitat and the only water tank big enough to accommodate several whale sharks, which is reason alone to buy tickets, especially if you've never seen them live.

Of course, while the whale sharks are the star attraction, the Aquarium has so much more! Their many smaller tanks feature an array of interesting species with everything from freshwater fish to penguins, otters, and beluga whales. Sea lion and dolphin shows are a part of the admission fee, but just watching the several species of jellyfish in their individual tanks can keep you mesmerized for hours as they move gracefully up and down with their flowing hairlike tentacles.

Everything is beautifully presented with large walls of thick glass so visitors can feel close to the sea life, separated by mere inches from the most amazing coral and fish, both large and small. In some places aquarium windows glitter with fish moving overhead, and at the entrance there is even a watery wall of schooling fish reflecting changing shades of blue light.

Why You Should Visit:
To experience all the world's major marine ecosystems in a single place – mostly via spectacular large displays and sometimes pop-up viewing stations/crawl spaces. From the Arctic waters where you'll see beluga whales and penguins to tropical seas where there is everything from seahorses to stingrays and sharks.

Tip:
Buy your tickets online as it is a better deal – some discounts there cannot be purchased in person.
Consider paying a little extra to do the backstage tour – well worth the money and great for all ages.
Walking Tours in Atlanta, Georgia