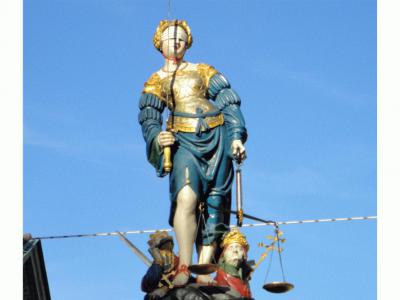 Gerechtigkeitsbrunnen (Fountain of Justice), Bern
(must see)
In a city of over one hundred fountains, the Gerechtigkeitsbrunnen ("Fountain of Justice") in the Old City of Bern is most definitely one to see. It is the only Bernese fountain to retain all of its original design elements, and it is listed as a cultural heritage site of national significance.

Due to Hans Gieng's famous statue of Lady Justice, the Gerechtigkeitsbrunnen surpasses all other Bernese fountains in artistic merit. The iconic figure was copied throughout Switzerland up until the middle of the 17th century. At the feet of Justice, four smaller busts crowd the pedestal: a Pope, an Emperor, a Sultan and a Schultheiss, whose golden chain of office is believed to have originally borne the Bernese arms. All figures have closed their eyes as in submission. They represent the Four Earthly Powers, the four forms of government according to Renaissance humanism: theocracy (the Pope), monarchy (the Emperor), autocracy (the Sultan) and the republic (the Schultheiss).

The statue represents the supremacy of Justice over all Earthly authorities; a variant of the medieval pictorial formula of virtue defeating vice. Divine Justice was a frequent element of political discourse in Reformation-era Bern. In the view of the reformators, doing justice according to God's word was the highest duty of all authority, superseding feudal rights. Such arguments were used, among others, to justify Bern's conquest of Vaud in 1536 from the dukes of Savoy.

While the sword and scales are traditional attributes of Lady Justice, the Bernese statue's blindfold is a novelty; only later did it become a common element in personifications of Justice and a general symbol for the principle of equality before the law. The blindfold implies that justice ought to be done without respect to rank or standing; that a just verdict is arrived at through introspection rather than with a view to outward looks. Gieng's Lady Justice is a symbol of republican justice and was a forceful public reminder of the Bernese Republic's authority through law.
Sight description based on Wikipedia.
Gerechtigkeitsbrunnen (Fountain of Justice) on Map
Walking Tours in Bern, Switzerland
Useful Travel Guides for Planning Your Trip
--- Swiss Sweets and Pastries
Among other things that make Switzerland popular around the world, chocolate is definitely the one. Still, chocolate isn't the only Swiss-made sweet deserving attention, as there are plenty of baked products, such as Magenbrot, Vermicelles, and Biberli, to mention but a few, that are well worth...