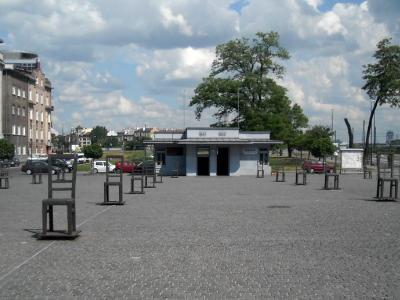 Ghetto Heroes Square, Krakow
What may appear like an abstract sculptural ensemble at a glance, in reality is a somber reminder of Europe's not so distant past in which millions of innocent people lost their lives. This old market square in Krakow, paved with blocks of grey syenite rock, is a poignant memorial to the victims of the Holocaust.

The sculpted pieces of furniture – mostly chairs – and other urban items, like the waste paper bins, awnings of the tram stops, hand water pump, bicycle parks and the traffic signs stripped of their usual functions, represent the fates of many Jews decided on this and other similar holding areas, called "Umschlagplatz", throughout occupied Poland during WWII. Here, assembled from ghettos for deportation, they were inspected prior to being sent to the Nazi death camps. A small police box still present on the north side of the square, which the Nazis, infamous for their ruthless meticulousness, used to identify and count the Jews, echoes those days filled with horror.

Evenly arranged across the 13,000 square meters of space, on a virtual grid of about five by five meters, are the chairs – all facing in one direction – resting on the slightly elevated metal platforms which create an illusion of floating over the pavement. This effect becomes even more apparent in winter when the square is clad in snow in stark contrast to the bronze or rust-colored wrought iron of the objects. Their size, slightly bigger than life, also adds a bit of dreamlike air.

Another notable site nearby is the Ghetto Eagle Pharmacy, sitting on the corner. The floor tiles at the far end of the square (diagonally across from the pharmacy) are placed at 90 degrees to the other surface and represent the former ghetto wall.
Ghetto Heroes Square on Map
Walking Tours in Krakow, Poland