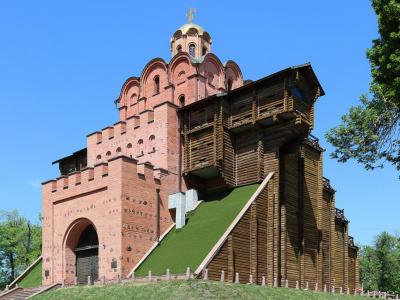 Golden Gate, Kiev
The Golden Gate is a key landmark of the Ukrainian capital and a standing reminder of its medieval past. The first mention of the gate was recorded in the 11th century. Legend has it that prior to fighting a nomadic army of the Pechenegs, Kievan Prince Yaroslav the Wise prayed to Virgin Mary and promised that, if he received divine help against the enemy, he would build a monument as a token of his gratitude. Upon his victorious return from the battle, Yaroslav kept his promise and built the gate, topped by a church. Initially it was called "the Southern Gate", but later was renamed in keeping with the church's golden dome.

In the 13th century, the gate was reduced to ruin by invading Mongols. Various notes left by foreign travelers, who set foot on Kiev's land in later years, attest to the grandeur of this architectural monument, and also describe the state of degradation in which they found it. By the 18th century, the gate was almost completely covered by earth and soil erosion accelerated the destruction process.

In 1832, the ruins were excavated and the gate's walls were examined by archaeologists and historians. It was then that the serious conservation works commenced. In the 1970s, the Golden Gate was fully reconstructed, just in time for the 1500th anniversary of Kiev, celebrated in 1982. Although there is no solid evidence suggesting that the present look of the gate matches the original, the renovated monument is a sure must-see for those genuinely interested in history and antique architecture. The monument also includes a museum featuring exhibits related to the Golden Gate's past.
Walking Tours in Kiev, Ukraine
Useful Travel Guides for Planning Your Trip
--- Kiev Souvenirs: 12 Distinctively Ukrainian Products to Bring Home
In recent years, Ukraine has made the news rather distant from welcoming tourism. Still, despite some controversial publicity, the country - for the most part - continues normal life and retains its traditional hospitality. There are quite a few things in Kiev, distinctively Ukrainian, that a...