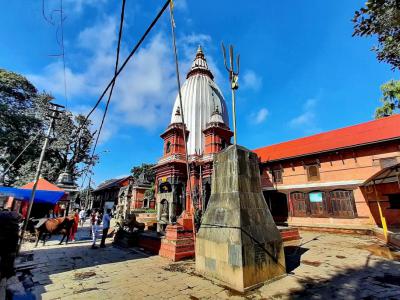 Gorakhnath Mandir (Gorakhnath Temple), Kathmandu
Gorakhnath Mandir is a small temple in Kathmandu. The temple is reached via a stone staircase that travels up the top of a hill. Among many temples located here, Gorakhnath Mandir is the most outstanding.

Gorakhnath Mandir is a red-and-white temple with a white pagoda and tall corn cob–like spire. A golden trident near the temple is a popular spot for photos.

The temple was built by Jayasthiti Malla, the 4th-century king of Nepal, and is dedicated to Gorakhnath, a Hindu saint and the founder of Hatha yoga. The location is known for being peaceful as it has largely been taken over by nature. Trees surround the various temples, and several macaques live in the area.

Gorakhnath Mandir is open 24 hours daily.
Gorakhnath Mandir (Gorakhnath Temple) on Map
Walking Tours in Kathmandu, Nepal