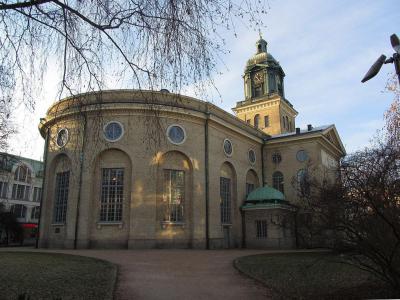 Gothenburg Cathedral, Gothenburg
The Gothenburg Cathedral is the seat of the bishop in the Church of Sweden diocese of Gothenburg.

It was part of the established Church of Sweden and had been at first named "Gustavi church" after Gustavus Adolphus. It was also known as Svenska kyrkan (the "Swedish church"), to distinguish it from Gothenburg's German - and Dutch-language Christinenkirche, known familiarly as Tyska kyrkan (the "German church"). By the change from the superintendentcy title to a bishopric and the establishment of a cathedral chapter in 1665 it was elevated to the status of cathedral.

The cathedral as we know it today was designed by architect Carl Wilhelm Carlberg. Carlberg died on 14 April 1814 and construction was completed followed by his disciple. The cathedral is built classical style. It is 59.4 meters long and 38 meters wide - including the new transept, which did not previously exist, while cattle and nave has the width of 22.86 meters. Furthermore, the nave interior height 14.25 metres and 52.85 meters in the tower's height. A clear example of classical style cathedral is the big head Portal one in the West. It is framed by four Doric columns (ancient Greek columns), which receives a pediment party. They were carved in Gothenburg by Scottish sand by Aberdeen.
Sight description based on wikipedia
Gothenburg Cathedral on Map
Walking Tours in Gothenburg, Sweden