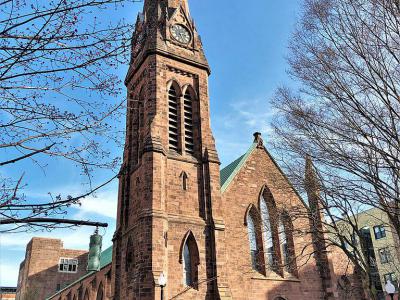 Grace Church, Providence
Grace Church is a historic, 19th-century Episcopal Church. It was designed by Richard Upjohn in the Gothic Revival architectural style.

By 1829, the population of Providence was spreading from the east side of the Providence River to the west. A small church was built on the site of the old Providence Theater on the west side to the growing congregation.

By 1835 the congregation grew to 260, and by 1844, the building was becoming too small and unsafe. Richard Upjohn, the foremost architect of his time, was hired to design a new building on the same site. The current building was completed in 1846.

The parish house was added in 1912 from a design by Cram, Goodhue and Ferguson. It was remodeled in 1950 by Harkness and Geddes. In 2015, the church underwent a massive renovation to update the eroding stonework and stained glass windows. A 3,000-foot glass pavilion was added in 2017.

Grace Church has a dedicated cemetery that was purchased more than a decade before construction of the church was completed. Unlike many church cemeteries, the Grace Church cemetery is not on the church grounds but is about a mile away at Broad Street and Elmwood Avenue. The cemetery includes a caretaker's cottage that was designed in the Gothic Revival architectural style.

Grace Church was added to the National Register of Historic Places in 1972. The church is open to visitors from 11 AM to 2 PM on weekdays.
Walking Tours in Providence, Rhode Island