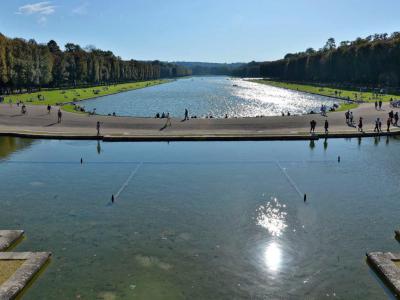 Grand Canal, Versailles
(must see)
If you are very rich or very powerful, you can obtain almost anything; Louis 14th, who was both, had no trouble indulging his every whim when it came to beautifying Versailles and one of his whims was the Grand Canal.

This artificial lake was laid out by André le Notre between 1668 and 1679. It is 1670 metres long and 62 metres wide, running in an east to west direction. It wasn't only for the king's pleasure, because it served a practical role too. As it lies on land lower than most of the garden's fountains, water drains from them into the lake.

This extra water was pumped by windmills and horse powered pumps to a reservoir situated on the roof of the Grotte de Thétys and from there it fed the fountains of the gardens below the grotto.

Water was a very precious commodity at Versailles, seeing that it was situated 10 kilometres from and 150 metres above the River Seine. It was brought from the river to the Louveciennes Aqueduct by the "Machine de Marly" - a system of 14 huge water-wheels that operated 177 pumps. It was planned by Rennequin Sualem and built by Arnold de Ville.

The canal was used for nautical displays and boats were sailed on it. The Republic of Venice gave the king two gondolas and four gondoliers, who were housed in lodgings called "Petit Venice". The king's "boatyard" also consisted of several long-boats, a galley, a three-master, a brigantine and two yachts.
Walking Tours in Versailles, France