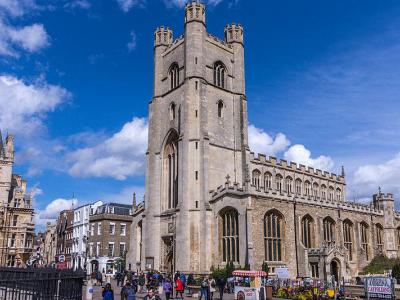 Great St Mary's Church, Cambridge
(must see)
Located on King's Parade, in the centre of Cambridge, Great St Mary's is the official church of the University of Cambridge. As a result, its location is integral to the university legislation – traditionally, undergraduates must live within three miles of St. Mary's to study at the university. The church is known as Great St Mary's to distinguish it from Little St Mary's, a smaller unrelated church on Trumpington Street. Great St Mary's also houses the University Organ and University Clock. The latter's chimes, known as the Cambridge Chimes, are also used by Big Ben, the clock tower of the Houses of Parliament in London.

The current building has stood on King's Parade since 1608, although the church itself has existed here in some form since at least 1205. Designed in the Late Perpendicular style, Great St Mary's was a centre for debates and sermons during the English Reformation, which began in Cambridge.

Why You Should Visit:
As well as viewing the beautiful nave, you can climb the bell tower (admission fee) to the viewing platform for a spectacular panorama of the city.

Tip:
The acoustics here are excellent for concerts (watch for a schedule) and be sure to check out the first edition King James Bible, on the left-hand side, as you enter the church.
If you climb the tower, try to be the first in your group and go up quickly (very narrow stairs), so you have one minute alone on the top.
Great St Mary's Church on Map
Walking Tours in Cambridge, England