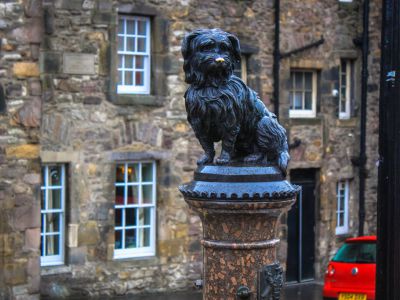 Greyfriars Bobby's Statue, Edinburgh
(must see)
Everyone loves a nice, weepy story about love and loyalty, especially if there is an animal involved! In Edinburgh, the people have erected a statue to their favourite four-legged hero, Greyfriars Bobby, at the south end of the George IV Bridge.

The beginning of Bobby's history is a little vague: he was either a policeman's dog or a stray adopted by a "bobby" on his rounds, which would account for his name. The policeman's name was John Grey and he kept Bobby for two years before dying of tuberculosis in 1858.

Whether Grey lived alone or whether his widow kicked Bobby out after his master's death, isn't clear; but the little Skye Terrier found himself without a home, so he made one for himself – on his master's grave in Greyfriars Kirkyard, where he stayed for the next fourteen years until his death.

Usually, dogs aren't welcome in churchyards, but the curator took pity on him and fed him. Other people also gave him food and William Chambers, the Lord Provost of Edinburgh, paid every year for his dog license, without which he would have been destroyed as a stray.

When he died, Bobby wasn't allowed to be buried on consecrated ground, so he was buried beside the Greyfriars Kirkyard gate. One of the rich ladies of the city had a memorial erected in his name with a double fountain below his statue – the upper one for humans, the lower for animals.

Many versions of the story exist, and a lot of books and films have been made about him. The race of the dog often changes, but Bobby's character remains the same – a dog who remained loyal to his master beyond the grave.

Tip:
Visit the Greyfriars Kirkyard behind the statue for some incredibly interesting local history and, if you're a Harry Potter fan, you can find Lord Voldemort's gravestone there, too!
Greyfriars Bobby's Statue on Map
Walking Tours in Edinburgh, Scotland
Useful Travel Guides for Planning Your Trip
---