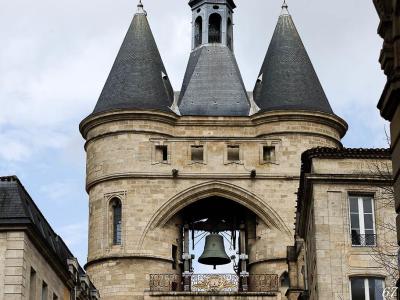 Grosse Cloche (Big Bell), Bordeaux
(must see)
La Grosse Cloche, or the Big Bell, is the name given to a 7800 kg iron bell housed in a medieval belfry. It stands on the Saint Eloi passage, with an archway in the bell tower allowing pedestrian access through the monument. This was once the Porte Saint Eloi, a gate into the city center in the Middle Ages. It was passed through regularly by pilgrims heading to the tomb of Saint Jacques, interred at a church in Santiago de Compostela, Spain.

The belfry once belonged to the town hall and is a very important civic monument, so much so that it is featured in the city's coat of arms. The distinctive round towers on both sides of the bell were built as long ago as the 12th century. There were initially supposed to be four towers, looking out in all directions from the city walls, but the final two towers were never constructed.

The 'Big Bell' itself was installed in the 15th century and was used throughout the Middle Ages to warn its citizens of impending emergencies, including fires and storms. The inscription on the bell says "I call to arms, I announce the days, I give the hours, I chase the storm, I ring the holidays, and I cry out for fire".

Why You Should Visit:
Very central and mostly surrounded by the cutest streets in the historic center with some of the best terraces to take a drink just a few streets ahead.
Above anything else, a great photo opportunity, with a different view from both sides.

Tip:
It's actually quite difficult to photograph because if the sun is strong you will miss the detail; hence, early morning is a good time.
Getting inside on a tour is pretty tricky also, but the guides are very informative and the views are excellent.
Grosse Cloche (Big Bell) on Map
Walking Tours in Bordeaux, France