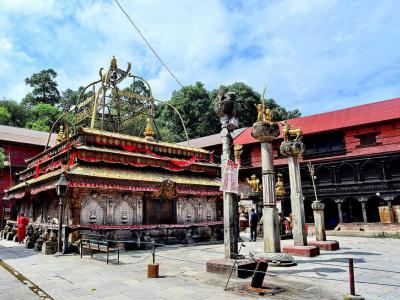 Guhyeshwari Temple, Kathmandu
Guhyeshwari Temple is a revered Hindu temple dedicated to Guhyeshwari, the goddess of cosmic energy. It is an important pilgrimage site for Hindus.

The temple is located on the southern bank of the sacred Bagmati River. The goddess is also represented by water. The center of the temple has a water jar placed over a natural spring. Water seeps from the edges of the silver-and-gold jar, used by worshipers to honor the goddess.

The temple is open 24 hours. Visitors are welcome to explore the temple or worship the goddess. There are also classical music concerts at Guhyeshwari Temple every new moon.

Guhyeshwari Temple is important to Tantric worshipers as it is the best place to gain the power of Tantra (a Hindu and Buddhist philosophy). Many Tantric rites are performed at Guhyeshwari Temple. Newar Buddhists, the historical inhabitants of the Kathmandu Valley, also revere the shrine as they believe it to be the location of the root of the lotus from which the sacred site Swayambhunath sprang.
Guhyeshwari Temple on Map
Walking Tours in Kathmandu, Nepal