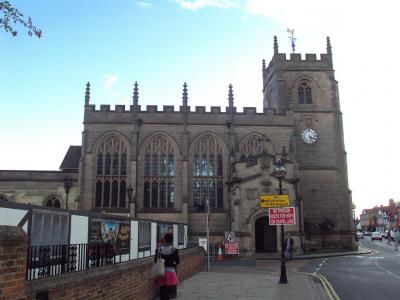 Guild Chapel, Stratford-upon-Avon
"defasyng images in ye chapel". For defacing paintings on the Guild Chapel walls, John Shakespeare, Willam Shakespeare's father, was paid two shillings. Its not a lot, considering the time he put in. Elizabeth I was in office, and she issued an injunction in 1559 to "remove all signs of superstition and idolatry from places of worship."

The Guild Chapel was founded by the Guild of the Holy Cross in 1269. The Chapel stands today on Church Street, across from William Shakespeare's New Place. Hugh Clopton, a former owner of New Place, had presented murals to the Chapel. It is ironic that John Shakespeare made money whitewashing the murals that were funded by Clopton.

The Guild was suppressed during the Reformation. Its property was turned over to the Corporation of Stratford. The murals were uncovered in the 1950s. A major restoration is in progress to restore the mural of Doom over the chancel arch together with the Death Poem. Seen from the outside the Chapel is a plain building with a high tower.

Restored in 1983 by Stephen Dykes Bower, The Chapel has a Grade I listing. It is owned and operated by The Stratford-upon-Avon Town Trust. The Chapel is in use as a chapel, providing services for King Edward VI School.
Walking Tours in Stratford-upon-Avon, England